5 tags
Startup of the Week: ZoomShift
Employee Scheduling Software ZoomShift helps small businesses operate better by giving them an easy way to schedule and communicate with their employees. With ZoomShift managers can create and post schedules quickly, and send email and text message notifications to everyone in the group. Employees are then able to sign in and see when they work, trade shifts with other employees, make...
Skills Pipeline is hiring interns!
Milwaukee start-up Skills Pipeline is looking to fill two paid internship positions this summer: Business Development Internship - job description Strategic Communications Internship - job description
4 tags
Startup of the Week: Golf Pipeline
Golf Pipeline is quickly becoming the Facebook and OpenTable for the golf industry. Just as OpenTable did for the restaurant industry, Golf Pipeline offers golfers the ability to book tee times at their favorite local golf courses. And, using the power of social networks, golfers can invite their friends to play golf by selecting from fellow Golf Pipeline friends, Facebook friends, LinkedIn...
4 tags
GE Healthcare Global Design Challenge
We're looking for new ideas from new people to help us build them!  Wanted:  Fresh, Milwaukee area communications and creative agencies with the talent to help us build and deliver powerful messages for our global brand. Interest in underground initiatives, where ideas are in early proof of concept phases, is a must.    We will pitch to YOU!  We are experimenting with a new way to develop...
1 tag
Announcing our Mentorship Program!
We are excited to announce the launch of the Startup Milwaukee Mentorship program! The program is designed to support entrepreneurs who are starting technology and technology-enabled service businesses in Southeastern Wiscosnin by connecting entrepreneurs to mentors from the entrepreneurial, corporate, investment and academic communities. If you are an entrepreneur or mentor who would like to...
6 tags
Midwest Social Innovation Start-Up Challenge
IDEAS? This challenge is an opportunity for students or aspiring entrepreneurs to submit a business model that includes social or environmental impact that makes the world a better place! The challenge is open to any ambitious team or individual who has an idea to create positive social change. Register here by May 20th. Entering is free and easy — and you may enter as many ideas as you like. ...
3 tags
Startup of the Week: Okanjo
Okanjo (oh-kahn-jo), which means "checkout" in Japanese, connects buyers, sellers and communities with the things they care about. Headquartered in Milwaukee's Historic Third Ward, Okanjo launched on February 1. The site is a national platform, like eBay, with the locality of Craigslist, featuring a secure transactional platform. Okanjo also makes giving easy by providing sellers...
5 tags
National author, coach, and speaker Susan K....
Susan K. Wehrley's fifth Ignite "The Plan" is an incredibly powerful true story about her journey with George Dalton, former CEO of the Fortune 500 company that brought us online banking. Throughout their journey for survival-he for 7 months in the ICU, she for the life of her newly born business-each came to realize the American Dream was not about the accumulation of wealth or even working a...
6 tags
Scale Up Milwaukee Launch Event
This is an amazing event coming up on May 6. We hope to see the Startup Milwaukee community there! From MiKE — Innovation in Milwaukee:   A few weeks ago we announced Scale-Up Milwaukee, an entrepreneurship ecosystem project, spearheaded by WEDC, WHEDA, the University of Wisconsin-Milwaukee, the City of Milwaukee, the Greater Milwaukee Committee, American Express OPEN and Dan Isenberg from...
Startup of the Week: The Good Jobs
      The Good Jobs™ is the first ever Company Culture Directory and showcases a company's culture so job seekers can learn the inside scoop that companies offer their employees. Talented and discerning job seekers have choices and want to work for a company that offers a job that matches their own personal work and life style.  The Good Jobs Company Profiles provide details about programs,...
11 tags
Intern with Startup Milwaukee
College students, this is your chance to be in the center of Milwaukee's tech startup scene. Startup Milwaukee is seeking an intern with an interest in startup companies/entrepreneurship, nonprofits, marketing, writing, technology and/or event planning. You'll have the opportunity to learn from and network with startup founders, emerging tech companies and nonprofit leaders in the...
13 tags
3 tags
Thank you!
Thank you gener8tor for hosting a fabulous meetup last night! It was a great way to celebrate the end of your very successful Winter 2013 Program. Congratulations to your entire winter class! They truly did a phenomenal job. All of us at Startup Milwaukee had a great time at the meetup. We love partnering with you guys, and can't wait to see what the next gener8tor class has in store!
6 tags
Internship Opportunities at Local Startups
We'd like to share two awesome summer internship opportunities at local  startups with you:  Find My Spot, an apartment search startup is looking for a marketing intern. For a job description and details on how to apply, click here.  MSI Data, a field workforce automation software company, has a couple of paid marketing internships. To learn more and apply for their Content Marketing...
4 tags
Startup Milwaukee on Radio Milwaukee
88nine Radio Milwaukee profiled Startup Milwaukee this week in a community story segment, take a listen to the story. 
5 tags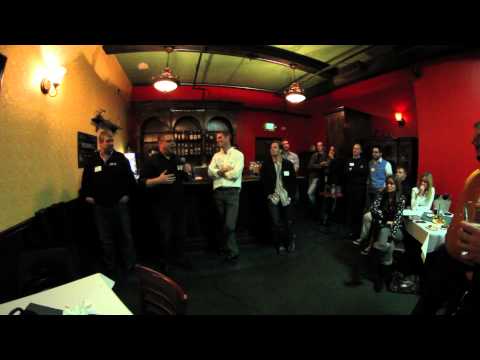 2 tags
WePurchit is hiring a Ruby Developer!
At WePurchit we're focused on making healthcare more affordable for a certain segment of consumers by using the power of group purchasing over the counter medications. We are currently looking for developers who are communicative and work well with others. WePurchit.com is an early stage startup backed by Assurant, Inc. We are currently looking to hire a Ruby Developer with both Front and...
9 tags
Meet our new leadership team members!
Meet the latest additions to the Startup Milwaukee leadership team, Michael Anderson and Chelsey Orlikowski! Michael Anderson joins Startup Milwaukee as Co-Organizer & Community Outreach Director. Michael is Founder of Loteek, a Milwaukee-based startup company that "brings the best stuff from local boutique businesses together in one place to create a digital main-street for shoppers to...
10 tags
Teammate needed for Go Green in the City challenge
Are you a student studying engineering or business? One of our new Startup Milwaukee members, Sid Parmar, is looking for a teammate (with a background in market research/finance) for a startup focusing on solar panel technology. This is for Schneider Electric's "Go Green in the City" challenge. Check out http://www.gogreeninthecity.com & tweet @sidharth_parmar if...
6 tags
Thank you, and let's keep the conversation...
Thanks to everyone who braved the weather and came to our meetup last night with PKWARE. We had a blast, and we hope you all did too!  The conversation is rolling on meetup.com, and we love it. If you came to the meetup last night and want to talk about it, join in on the conversation. We would love to hear from you! Our next meetup is Tuesday, March 19 @ 6pm. We'll be meeting at...
8 tags
We love this post by local entrepreneur, Nick...
"PPaaS (Potato Peeler as a Service)" Nick Gartmann, entrepreneur and co-founder of local startup companies, RokkinCat and Tappr, asks if your startup is a "PPaaS (Potato peeler as a service)." Gartmann points out an alarming trend: It's "becoming more and more popular (maybe sexy?) to be the founder of a startup, so people are looking for ideas of where they...
Getting ready for our meetup on February 21st...
…and we hope to see you there! If you haven't yet, please RSVP using Facebook or Meetup.com.
What's On Tap: New Technologies in the Liquor... →
gettappr: By Ryan Konicek: Business Development & Co-Founder of Tappr Inc. If you haven't noticed, the liquor industry is one of the most competitive out there (next to the coffee industry). Business owners are always looking for a way to differentiate their bar, nightclub, event venue, pub, etc. In this…
12 tags
Startup Milwaukee February Meetup - PKWARE & Viivo
When: Thursday, February 21, 2013 (6-8pm) Where: Mo's Irish Pub (142 W. Wisconsin Avenue, Milwaukee, WI) View Map  PKWARE is a Milwaukee-based company that has gone from startup to successful software company. Pioneers of data compression software (their founder invented the .zip file), PKWARE continues to think and act like a startup today. In 2012, the team at PKWARE launched Viivo....
5 tags
Upcoming Event at Translator
The Icarus Sessions: (Organized by Seth Godin) Wednesday, 2/6  7:00pm - 9:00pm Translator 415 E Menomonee St. Milwaukee WI 53202 map The Translator crew will be hosting the Milwaukee Icarus Session. Please RSVP for this event on the Meetup page. And if you would like to present please email Katie (at) Translatormke (.) com. Message from The Icarus Sessions (organized by Seth Godin): ...
4 tags
Local Event: MiKE Meeting, hosted by the...
When: Wednesday February 6, 2013 from 5:30 PM to 7:00 PM CST Where: The University Club (924 E Wells Street, Milwaukee, WI 53202) Map  //  Driving Directions Join MiKE, in coordination with the University Club of Milwaukee, for a MiKE meeting featuring J.B. Pritzker, co-founder and managing partner of The Pritzker Group, a private investment firm, and the founder of New World Ventures, the...
9 tags
11 tags
Thanks to all who attended last night's meetup
Thanks for everyone who came to our meetup last night! We had a great time, and we hope you did too. A special thanks goes out to the Yappem team + startup lawyer, Nathan Hammons, for presenting. As always, big thanks to our partners at Translator for hosting, and Milwaukee Brewing Co. for the delicious beer. Learn more about, or contact our presenters: Yappem Dave Sachse & Justin Webb Web:...
8 tags
January Meetup - Yappem & Startup Law 101
Join us for our next meetup on January 22, 2013 at Translator! Agenda: 6 to 6:30pm - Networking (free beer supplied by MKE Brewing Co.) 6:30 to 7:30pm - Welcome, Announcements, Yappem, Startup Law 101 8pm - Tappr Drinkup at SPiN Milwaukee! About our speakers: Entrepreneurs Dave Sachse & Justin Webb will talk about their journey founding Yappem, an app for rewarding user value and...
6 tags
Startup the New Year!
Let's bring Milwaukee's startup community together to celebrate the new year! Enjoy a casual atmosphere with networking, startup talk, free pizza from Transfer and an excellent selection of wine & beer (cash bar). When:   Thursday, January 10 from 6-10pm Where:  Hudson Business Lounge (310 N Broadway, MKE) RSVP:    via meetup.com or Facebook
4 tags
As I Know It.: An Entrepreneur's Pursuit →
benbartling: It is a fact that many entrepreneurs get caught in the grind. We can spend every waking moment focusing on our ventures, the next sale, the next product release, or a long awaited acquisition. This is the result of the gung-ho attitude and focused passion that many entrepreneurs have for the work…
5 tags
Next Event: November Meetup
Join us Thursday, November 29 for our November meetup! The event will be held at Translator Lab in Milwaukee's Third Ward.  After the first-ever Startup Weekend in Milwaukee, we want to dedicate the first half of our meetup to check-in with the teams that participated in Startup Weekend and see where they are headed!  We're also looking forward to Serial Entrepreneur, Art...
19 tags
From the October Archive...
Our meetup isn't going away anytime soon! We're just working on Milwaukee's first Startup Weekend, which will take place November 9-11. Here's the full scoop: Milwaukee to Host First Startup Weekend Nov. 9 – 11 Startup Weekend will host its first-ever Milwaukee event Nov. 9 – 11 at Marquette University's Discovery Learning Complex. Startup Weekend is a global grassroots movement of active and...
6 tags
It's time for us to move on to our new website,...
With your help, we designed and unveiled our new logo in September. But now it's time for us to move on to creating our new website, and we need your help. First of all, thank you to everyone who voted on logo concepts, shared ideas and gave feedback. We're still stoked about all of the positive response the new Startup Milwaukee logo received when it was unveiled at our meetup in...
6 tags
September Meetup
Our next meetup will be held on Tuesday, September 25th @ 6pm. Our speakers will include Jon Hainstock & Ben Bartling who will talk about "SEO for Startups" & John Bialik founder of Swapferit will share his startup story. RSVP: Using our facebook event… Using our meetup site… Or, email Matt Cordio matt@cordio.co
3 tags
Website Redesign!
We are pretty stoked to announce that our website is currently undergoing a complete redesign! (Don't worry, this site will remain until the new site is launched.) Stay tuned :)
7 tags
Startup Milwaukee August Meetup
The hiatus is over—the StartupMKE meetup returns August 21! Here are the details you've been waiting for, folks: When: August 21, 2012 6-8:00 pm Where: Translator Lab 415 E. Menomonee St.Milwaukee, Wisconsin 53202 Google Map What: Presentations and Q&A with Tappr, Student Spill and WomStreet Networking with Wisconsin's startup community FREE BEER provided by...
StartupMKE August Meetup
August is just around the corner, and so is our meetup. Exciting details to come!
6 tags
February Meetup follow-up!
Thanks to everyone who was able to make it to our February meetup last night! Here are links to the startups that presented: Codiqa | Website | Twitter Max Lynch, co-founder: @MaxLynch | Ben Sperry, co-founder @HelloImBen AcceleratorLi.st | Website | Twitter Nick Wichert, co-founder: @NWichert | Craig Aucutt @CAidentity TweetCampaign | Website | Twitter Josh Holtz, founder: @JoshDHoltz ...
6 tags
February meetup: Code Academy, Codiqa, SplitGear &...
More details on Startup Milwaukee's February meetup are coming soon, but we are excited to announce some details (as well as our line-up of all-star speakers)! What: StartupMKE's February Meetup When: Wednesday, February 8th, 201              6:00pm - Begin Networking              6:30pm - Startup Presentations: Code Academy, Codiqa & SplitGear.              7:15pm - More...
StartupMKE Prime Tonight!
Startup Milwaukee's primetime networking event will be held 6:30p to 9p tonight at Rustico Pizzeria in Milwaukee's 3rd Ward. RSVP & Read More Here…
Meetups to Attend This Week!
Hey Milwaukee Startup community! There are two startup-related meetups that you should try to attend this week: Spreenkler Meetup on Design, Technology & Startups.  Wednesday 1/4 6pm @ The MiKE Space (Grand Avenue Mall) Kicking off their 6th year the Spreenkler Meetup will feature Tim Deyer Chief Storyteller at Manifesto. Read more… 94Labs Meetup Thursday 1/5 5:30pm @ The...
What are we doing?
StartupMKE's mission is simple:  "We are building Milwaukee's emerging startup community!"         -StartupMKE's Co-founders Join us on our mission! Our next meetup is December 13th.
Recap of StartupMKE PRIME
The first StartupMKE PRIME event was last night at the Hotel Foster on Milwaukee's east side and we'd consider it a major SUCCESS. Attended by 30+ active, aspiring, and successful entrepreneurs from the Milwaukee area representing over 20 tech startups located in Southeastern Wisconsin there was a lot of networking, idea sharing, and collaboration occurring.   JOIN US for our December...
StartupMKE PRIME next Tuesday
We had fun with the group of active, aspiring, and succesful entrepreneurs who showed up at our meetup earlier this month; we thought we should get everyone together for drinks next week! The Details:  What: StartupMKE PRIME Date: Tuesday, November 22, 2011  When: 6:30pm to 8pm Location: Venue TBA Reminder: StartupMKE's December meetup will be held on 12/13; RSVP and gather more...
StartupMKE + 94Labs meetup #1
Hi everyone! StartupMKE and our friends at 94Labs would like to invite you to our first meetup EVER!!! The event will be held November 3rd, save the date!!!  We'll be announcing more details about the meetup soon via our mailing, sign-up for it NOW!!! Meetup Details (subject to change): Date: Thursday, November 3, 2011. Timing: 5:30pm to 8:30pm Location: To Be Announced We'll be...
3 tags
Sign up for our newsletter!
Want to attend our events & get periodic updates from StartupMKE? Click here to sign-up! http://eepurl.com/fI0Zs